Sweden Close to Becoming 'Smoke Free' Country
Sweden is getting close to becoming the first "smoke-free" country in the European Union (EU). The country of 10.5 million people has had the lowest percentage of smokers in the EU for many years.
A country is "smoke-free" if less than five percent of the population smokes daily.
Only 6.4 percent of Swedes over the age of 15 were daily smokers in 2019. That was the lowest percentage in the EU. The Eurostat statistics agency says that across the 27 countries of the EU, the average was 18.5 percent.
Data from the Public Health Agency of Sweden show that the smoking rate has continued to fall, reaching 5.6 percent last year.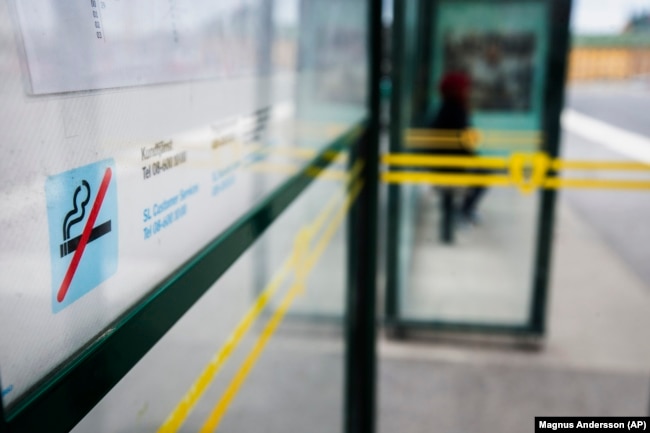 FILE - A no smoking sign is seen at a bus stop in Stockholm, Sweden, June 25, 2019. Sweden, which has the lowest rate of smoking in Europe is now close to declaring itself "smoke free," defined as having less than 5% daily smokers in the population. (Magnus Andersson /TT News Agency via AP, File)
"We like a healthy way to live, I think that's the reason," said Carina Astorsson, who lives in Stockholm. Smoking never interested her, she added, because "I don't like the smell; I want to take care of my body."
Sweden says its anti-smoking actions improve health in several ways, including a lower rate of lung cancer.
Ulrika Arehed is secretary-general of the Swedish Cancer Society. She said Sweden was early to limit smoking in public places such as school playgrounds. Later, the country added smoking bans for outdoor restaurants and bus stations. The country also increased taxes on cigarettes and changed rules on how they can be sold.
However, other forms of tobacco remain popular in Sweden. Snus is a wet tobacco powder placed in the mouth next to the teeth.
Snus makers say their products help reduce cigarette smoking. But health officials say snus is another product that makes people addicted to nicotine, the main drug in tobacco.
"It is true that smoking is more harmful than most things you can do, including snus. But…there are many health risks even with snus," said Arehed.
FILE - A man holds a box of snus (snuff), a smokeless tobacco product that's illegal elsewhere in the European Union but is marketed in Sweden as an alternative to cigarettes. (Claudio Bresciani /TT News Agency via AP, File)
Snus is such a popular part of Swedish culture that the country demanded an exemption to the EU's ban on smokeless tobacco when it joined the EU in 1995.
Patrik Hildingsson is a spokesman for Swedish Match, Sweden's top snus maker. He said officials should urge the tobacco industry to develop less harmful choices to smoking such as snus and e-cigarettes.
If snus and similar products are included, the World Health Organization (WHO) notes that more than 20 percent of adults in Sweden use tobacco. This brings Sweden close to the world average.
"Switching from one harmful product to another is not a solution," the WHO said in an email to The Associated Press.
Tove Marina Sohlberg is a researcher at Stockholm University's Department of Public Health Sciences. She said Sweden's anti-smoking rules have pushed smokers away from public spaces.
"We are sending signals to the smokers that this is not accepted by society," she said.
The WHO marked "World No Tobacco Day" on Wednesday.
___________________________________________________________________
Words in This Story
exemption –n. freedom from being required to do something that others are required to do
switch –v. to change from one thing to another
Sweden Close to Becoming 'Smoke Free' Country (voanews.com)