Some Americans have strong opinions about attending religious services during the coronavirus health crisis.
"I don't give a rat's tail who John Bel Edwards thinks is essential and who isn't," said Tricia Slaughter. She attends Life Tabernacle Church in Baton Rouge, Louisiana.
John Bel Edwards is Louisiana's governor. He announced a stay-at-home order for the state on March 23. The order remains in effect. It limits the operation of businesses and other activities that government and health officials consider nonessential.
Of all the activities restricted, religious services have been among the most debated.
Louisiana joined more than two-thirds of the 50 states in barring or substantially restricting in-person religious services to limit the spread of the coronavirus. Edwards has limited the number of people permitted at such services to 10.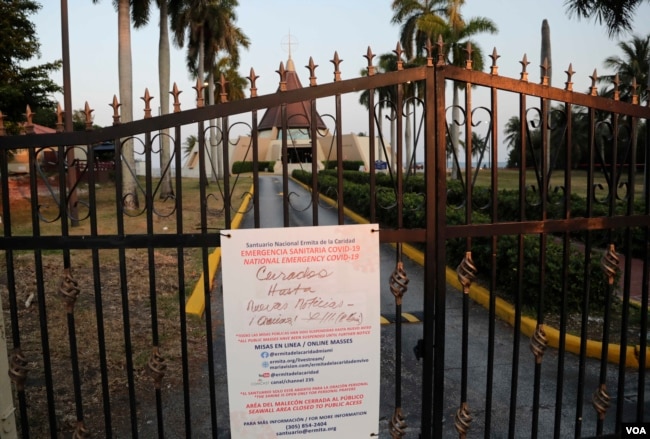 A sign hanging on a locked gate in front of the Ermita de la Caridad church in Miami indicates that the church is closed during the new coronavirus pandemic, Thursday, April 9, 2020.
Many religious groups across the United States have temporarily moved to online services. Still, some people argue that the restrictions violate their Constitutional guarantee of religious freedom.
Among them is Tony Spell, who leads the Life Tabernacle Church. He continues to hold weekly in-person services with hundreds of followers. The clergyman has been placed under house arrest for violating the order.
Many religious Americans sympathize with the desire to gather and pray together. But they also worry that churches like Life Tabernacle are unnecessarily putting the public at risk.
"Surely there's a way to worship without sacrificing the wellness of the world," said Amanda Pitts of Texas. She has attended online services with her church since the coronavirus pandemic began.
But Tricia Slaughter says it is Life Tabernacle's in-person services that have kept her and other members well during the health crisis.
Tricia Slaughter is a member of Life Tabernacle Church in Baton Rouge, Louisiana. (Photo courtesy Tricia Slaughter)
What is essential?
Slaughter's defense of her church's right to hold services is more personal than a debate about the U.S. Constitution.
Slaughter said she suffers from drug dependency. She said she turned to Alcoholics Anonymous to end her dependency, but it did not work for her.
"I told Pastor Spell all of this," she said, adding, "and he told me, 'You are welcome here.'"
For three years, Slaughter went to Sunday morning services, but she says her worry about COVID-19 makes her fearful she will return to alcohol. So, she started attending additional services at the church.
"I never imagined I'd live a day without vodka, but now my family at Life Tabernacle is helping me stay sober during a very difficult time," she said.
Slaughter says she has nothing against those who enjoy online religious services. But she says that method might not meet the needs of the weakest.
Health risks
Many people say, however, that the larger public health risks should outweigh individual desires.
Yuria Orihuela attends church in Miami, Florida. The state's government has removed major restrictions on attending religious services. But Orihuela's church, like many others in the state and country, has decided to continue with online-only services for now.
She says she would not attend in-person services, even if her church offered them.
"To put yourself and your family in danger, when scientists are telling you it isn't wise, is being careless and uncaring, or simply ignorant," she said. "I think it would be an irresponsible choice."
Since the pandemic began, the virus has infected worshippers at several religious centers. For example, more than 40 people developed signs of COVID-19 after attending a March 15 service in Illinois.
And in Virginia, a clergyman died of the disease after holding in-person services in late-March.
Slaughter says Life Tabernacle is not ignoring the risks of COVID-19. She says she knows of nine church members who have the disease. The East Baton Rouge Coroner's Office confirms one member died of COVID-19.
"The media is creating this story of us being careless or rebellious," said another Life Tabernacle Church member, Courtney Tobias. She added, "…but that's not true."
Courtney Tobias inside Life Tabernacle Church in Baton Rouge, posing in front of a photo of Pastor Tony Spell, his wife, and the church's bus fleet.
Tobias said church members have their temperature taken before they enter the building. She said members are asked to wear face masks, clean their hands and to sit only with their family. She said many of the older members have chosen not to attend for a while.
"This is something we are taking seriously," she said.
Online services not available to all
Tobias says a lot of Life Tabernacle members lack the technology to make online services work. Slaughter knows the truth of this.
"I don't have high-speed internet or a smartphone," she said.
Many members don't have cars either. Life Tabernacle has 27 buses it sends around the area to take people to church each Sunday. Members say it would not be possible to organize the transportation for 10-person services.
Jen Olano of New Orleans, Louisiana, has enjoyed her church's online services and says her Bible study meets online also. She says it angers her to see people going against the stay-at-home order.
However, she thinks the issue can be complex, especially for those seeking church to better their mental health condition.
"You wouldn't deny a cancer patient treatment during coronavirus," she said.
Tobias says she understands that governments are trying to balance the health needs of all their citizens, but she agrees with Slaughter that some government policies are questionable.
"They're making it so hard for me to go to the place I need to fight my alcoholism," Slaughter said. "But do you know where they make it really easy for me to go? The liquor store. The liquor store is considered essential."
Words in This Story
essential -adj. extremely important and necessary
worship -v. to honor or respect (someone or something) as a god
pandemic -n. an occurrence in which a disease spreads very quickly and affects a large number of people over a wide area or throughout the world
vodka -n. a strong, clear alcoholic drink that is originally from Russia
sober -adj. free of alcohol or drugs
mask -n. a covering used to cover your mouth and nose to prevent disease spread
liquor -n. a strong alcoholic drink