Many internet tools seek to identify what disease a person has based on symptoms described by the user. A new study finds these online symptom checkers are rarely correct and could be harmful.
Australian researchers at Edith Cowan University in Perth, Australia did the study. Their results were published in the Medical Journal of Australia.
Online symptom checkers are commonly found through major search engines. Google, for example, gets an estimated 70,000 health-related searches every minute.
The study examined 36 international internet-based symptom checkers. The tools ask a series of questions about the symptoms users are experiencing and then use that information to identify conditions the users might suffer from.
In this Jan, 23, 2020, photo released by Initium Media, tourists wearing masks, take photographs outside the Casino Lisboa in Macao, China. (Choi Chi Chio/Initium Media via AP)
Some tools also advise users on whether to seek medical attention.
The study found that overall, symptom checkers produced the correct diagnosis as the first result 36 percent of the time. The tools predicted the right diagnosis within the top three results 52 percent of the time.
Michella Hill is a student at Edith Cowan and a leader of the research. She says the findings demonstrate why users should be very careful about using the systems for diagnostic purposes. "While it may be tempting to use these tools to find out what may be causing your symptoms, most of the time they are unreliable at best and can be dangerous at worst," Hill said.
She said one of the main problems with online symptom checkers is that they depend on too little information. "They do not look at the whole picture they don't know your medical history or other symptoms."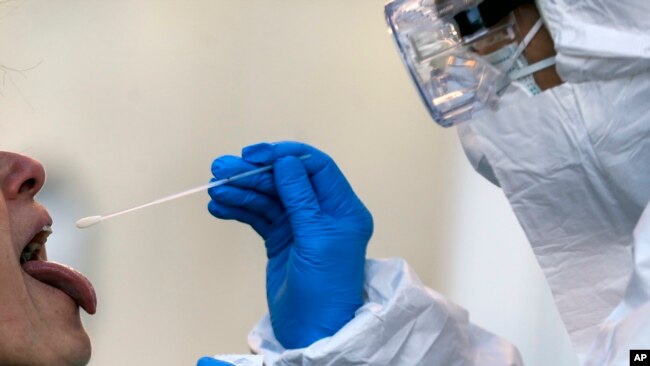 In this Wednesday, April 1, 2020 filer, medical staff of a mobile unit take samples from a woman to test for Covid-19, at the Santa Maria della Pieta' hospital complex, in Rome. (Cecilia Fabiano/LaPresse via AP, File)
Hill added: "For people who lack health knowledge, they may think the advice they're given is accurate, or that their condition is not serious, when it may be."
The Australian study did find the symptom checkers produced more accurate results for advice on when and where users should seek medical attention. The advice for emergency and serious medical cases was correct about 60 percent of the time. That number dropped to 30-40 percent accuracy for non-emergencies.
Hill said she does think online symptom tools can effectively fill a need in the modern health system. "These sites are not a replacement for going to the doctor, but they can be useful in providing more information once you do have an official diagnosis," she said.
Internet searches related to information about the new coronavirus topped all others in recent months on Google, the Google Trends website reports. Many users have also turned to Google for information on virus symptoms.
The top-searched coronavirus symptom by far over the past four months was fever, Google Trends shows. This was followed by sore throat, shortness of breath, loss of taste and loss of smell.
This graphic produced for Google Trends shows the top coronavirus symptom searches on the Google search engine. (Google)
Google also provides a tool for users to check their symptoms related to COVID-19, the disease caused by the coronavirus. The company says the tool is designed "for informational purposes only," and not meant to provide a medical diagnosis.
The World Health Organization (WHO) said earlier this month it is planning to launch its own symptom checking tool. A WHO official told the Reuters news agency the wireless device tool is expected to be popular in countries lacking their own development resources.
Engineers and designers – including former Google and Microsoft employees – have been volunteering their time to develop the WHO app, Reuters reported.
Words in This Story
symptom – n. a change in the body that shows a disease is present
diagnosis – n. a doctor's opinion of what is wrong with someone who is sick
tempting – adj. having an appeal
unreliable – adj. not able to be trusted or depended on
accurate – adj. correct or exact
fever – n. a high body temperature caused by sickness